Active Recruitment
Sgt Reyes is actively recruiting subscribers to this new calendar. Just in case you need an additional incentive, 100% of the proceeds will benefit injured veterans and their families.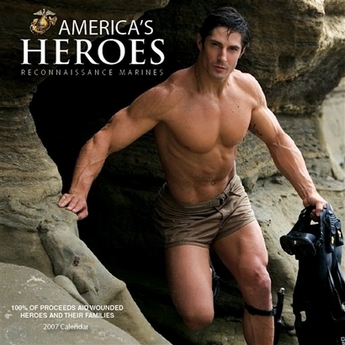 This calendar, published by Freedom Is Not Free, shows former Marine Corps Sgt. Rudy Reyes, of Kansas City, Mo. on the cover of their 2007 calendar 'Americas's Heroes: Reconnaissance Marines'. Please visit their website to view the pictures and to purchase your own copy. My favorite month is September. What's yours?
To view the Today interview with Sgt Reyes and some of his fellow marines click this link.
(AP Photo/Freedom Is Not Free, Tim Mantoani)
UPDATE: Will gladly give equal time to a non-profit woman's calendar that meets my approval.
Posted by Michele at October 17, 2006 02:12 AM | TrackBack