Allison Horstmann-Jones - WTC war victim
This post is part of the 2996 project, which honors those that died in the attacks of September 11th. Allison was assigned to me by those on the project.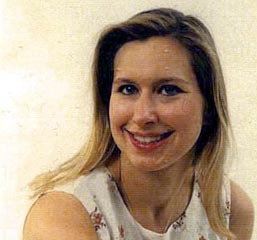 Please click below to read about Allison.
Allison Horstmann who grew up in Bernardsville, N.J., and graduated from Lehigh University was much loved by all her friends and family. The marathon runner and triathlete earned her MBA degree at the University of Colorado in 1997. That was also the year she went to work for Sandler O'Neill and married Harry T. Jones IV, a Bernardsville neighbor.
An all around athlete, she especially loved biking, hiking, running, & swimming, and eventually excelled in them all. Her running led her to run the New York City Marathon. In the winter, she skied with the Jones family in Sun Valley, Idaho. Allison completed triathlete competitions and intended, someday, to enter the Iron Man races. She and husband were married nearly five years and went wind-surfing and scuba diving in Belize shortly before her death.
Allison played hard and worked hard as vice president in institutional sales at her firm which specializes in bank stocks. "She was a very determined person, yet she was a loving wife and daughter," said her father, Richard Horstmann
The morning of the attacks, he said, "I was driving to work and heard it on the radio, and I immediately called Allison." His daughter also talked to her mother and husband and said she was fine. "We all talked to her that morning on a very upbeat basis." And that has provided comfort.
In addition to her father and husband, Allison is survived by her mother, Beverly Horstmann of Mendham, N.J.; sisters Katherine Colella of Basking Ridge, N.J., Jennifer Horstmann of Boston, and Kimberly Horstmann of Mendham, and brother Frederick.
I pray that Allison's loved ones have been able to find solace in her memories and in the love of family and friends.
Posted by Michele at September 11, 2006 01:23 AM | TrackBack