Graduation Day
I don't remember my kindergarden graduation, if there was one. In fact, I never really cared for any of the graduations I've ever had. The only reason I attended my high school graduation was because I had three things to do during the ceremony. For my college ceremony I did double duty, making a speech as Undergraduate Student Gov't President and the only yearbook photographer available to take pictures.
Now that I'm a mom, I realize that graduation is about family and friends celebrating with their student their achievements and successes. For me my son's graduation was a day full of wonderful surprises. I not only received a little award from the kids for volunteering in their classroom. For me the greatest gift was the little story they wrote, which they printed on their pc, which included hand decorated color illustrations. I was truly touched. My son also received an award and wore lots of different hats during the ceremony. This is the same kid that usually hides behind me when we run into a neighbor or anyone tries to talk with him.
Here he is reading what the class picked out as their favorite story to share with their parent. I was so proud of him! I was just so amazed that his teacher worked with him to help him overcome his shyness enough for him to get in front of a crowd to read. I nearly cried, the only thing that stopped me was that I was recording the ceremony.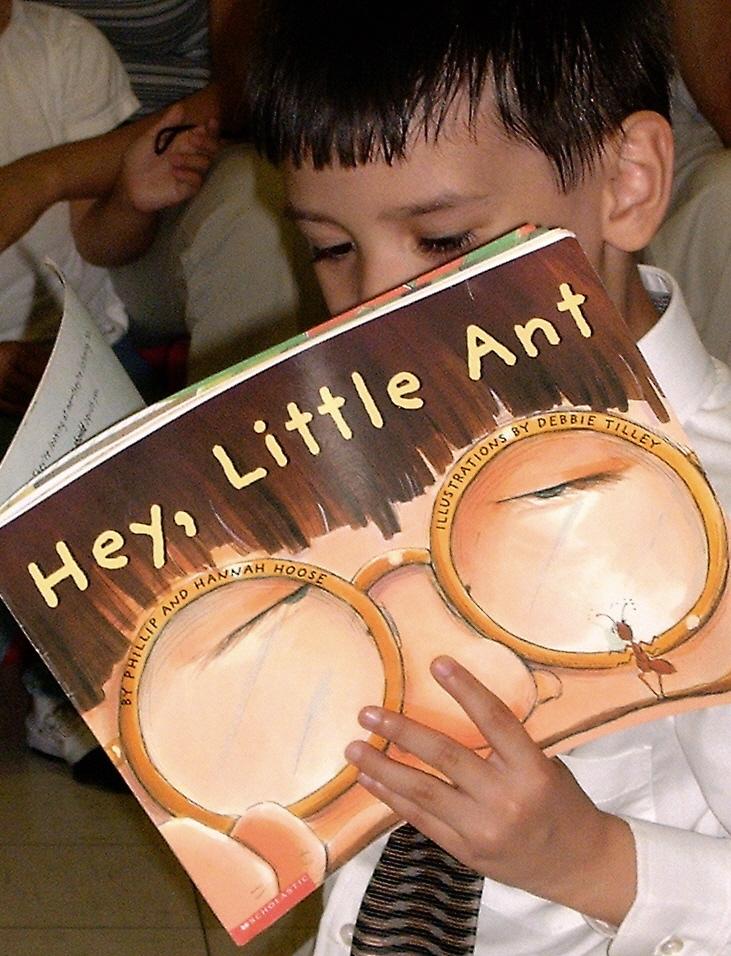 After the ceremony, 4 parents asked me what program I used to help my son learn how to read? Puzzled I asked them: What program? They eagerly named a few programs hoping I would pick one as the magic solution to their "slow reader's" problems. That made me angry on two counts, their quick labeling of their child as "slow", and comparing their wonderful creative children to mine. Every child has different strengths, to compare them to my son, who loves math, science and reading is really unfair. I quickly shared with each parent my view of of each's strength and let them know that after working with them at school, I know for a fact they are reading within their skill level for their age group. [I hate when parents compare their kids to others, it just makes children feel inadequate.]
So already being annoyed I just went ahead and told them that the only program I've ever used is the one recommended by experts world wide. In fact, I started with using this program the day my sone was born. The program is simple: read to your child everyday for 15 minutes and spend at least 5 minutes discussing afterwards what they liked or didn't like about the story. If there's words they don't know, tell them to stop you in the middle of reading and help them pronounce it by breaking down the words into syllables and afterwards giving them a definition and repeating the sentence.
After a long pause, one parent finally asked: "You;ve read to him every night? " they actually seemed to be in disbelief that I've done this almost every night for the past 6 years. "Uh, yeah!"
It's amazing, some people think all you have to do with kids is take care of
their basic needs and the teachers will take care of the rest. I would love to home school my son, but since I can't the best I can do is help supplement what he learns by working with him at home. It only takes 20-30 min.
a day. They could not believe it. More importantly, I wonder what it is that they do with their kids when they get home. These parents are married, with extended families either living home or nearby, none of which I have the benefit of, and yet they seem to spend less time with their kids than I do. I'm just amazed and I really don't get it.
Anyway, out of all of my son's achievements this year, reading in public and delivering the class speech was the thing I was most proud of. I get choked up just thinking about it. My little baby boy is growing up. Sniff, sniff, sigh!
Posted by Michele at June 29, 2005 11:42 PM | TrackBack