Whole lotta 'tude
I've got nothin'! .... living in Manhattan can certainly suck the life force and creativity out of you in many ways. Being temporarily relocated here is bad enough, but having my son sick (Doc thinks it might be strep, might be an ear infection, or might be both) and being 90 minutes from his pediatrician, whom we both love, is even tougher. Right now it's a wait and see game. So I sit here, as he sleeps and wait. Making sure his temps don't spike up as they did last night; making sure he can breathe and there's no asthma complications, and just making sure he has a restful night's sleep while I watch, wait and see.
As a stress relief I thought I'd join the Karnival of Kids fun being hosted at Susie's, of Practical Penumbra, and share a bit of his silly and playful side with all of you.
Here we were at the Boat Basin in Central Park a couple of weeks ago, when suddenly he decides to lay down on his back and watch the clouds in the sky. As I snapped the picture he had just finished saying, "I love this place!" Yes, I do too. Get well soon my little cuddlebunny, 'cause I miss your smile!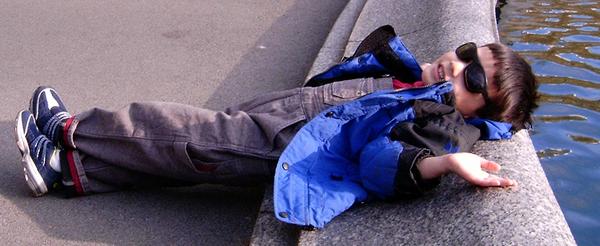 Posted by Michele at May 21, 2005 10:02 PM