MY Central Park and The Gates of Hell
Central Park is a little slice of heaven in NYC for the 8 million people that live here. Over 15O years ago, the NYC legislature designated the 24 miles of farm and dairy land, as public space. In so doing, they assured that New Yorkers would have a refuge and comfort in natural wonder of nature.
As I approached Central Park Sunday, I thought about how my own personal history and development is so intertwined with this incredibly luscious green space in the summer, and how it has become for me this winter a quiet meditative grey space to help in my healing process from this damned carpel tunnel and tendonitis.
Last week, as I began to walk around in the park, after one of my physical therapy appointments, I began to see crews of men placing these dark pedestals on either side of the footpaths throughout the park. It was annoying because the walking paths are not very wide to begin with, and now these pedestals were further limiting the footpath space by over a foot in width by 3 feet in length on either side.
On Sunday when my son and I walked around we had to get out of the park because essentially there was not enough foot space for 4 people to walk side by side, so people were bumping into us constantly.
At first I was perplexed because these things were everywhere. It seemed like to massive a project for the Park Conservation Committee to undergo without letting NY residents know this would be happening. When I later heard about The Gates art project I was really annoyed. The total cost for the project: 23 Million dollars plus 3 Million for the 750 police officers to guard the exhibit every night for 16 nights.
At first I was just angry over the installation because the miles of non-biodegrable nylon tarp blocks everyone's view of nature in every direction. As you walk, all you can see is a sea of artificial flourescent/day glo orange fabric and steel. When I learned of the cost it pushed me over the edge. I love art, I even have 3 memberships to reflect my love, interest and support of art. To spend that much money on nylon, plastic and steel I feel is unconscionable!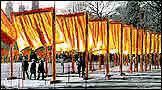 Maybe if you saw the park from my point of view [in pictures], you might understand my love for this space, and my frustration with The Gates [of Hell], that are currently transforming my beloved park. Maybe then you'll understand why, even though I love art, I find this project to be an eyesore and a stressful nightmare.
Central Park is very important to me because it's been the backdrop for some of the most important moments in my life. I had my first official date, and experienced my very first kiss along one of the footpaths by the Great Pond. It was also the place where I celebrated birthdays with friends over the years, in the form of outdoor picnics or lazy summer afternoons on any number of fields.
It's where I hiked to my favorite museums while checking out the runners in all types of gear. It's where I would spend hot summer afternoons (when I did't go to the beach) reading a book in the shade of a tree by Bethesda Fountain, while checking out cute boys on bikes, roller skates or skateboards. It's where I went to for free summer concerts and Shakespeare in the Park during grad school, when I was too poor to afford anything else.
It was also the place that witnessed the start of some promising romances and the end of several relationships (guys have restaurants, I have Central Park). In that way I secure that a public scene would not be made. Belvedere Castle was where my ex-husband proposed to me. Sigh! I haven't been back to the castle ever since. The benches by the Boat Basin is where I asked my best friend Mike to be the "Male of Honor" at my wedding.
The Boat Basin, Petting Zoo, Carousel and Boat House are my son's current favorite places to visit, aside from the 4 huge children's parks located throughout the park.
My love affair has been richly rewarded in turn. For years I have photographed different aspects of the Park's beauty. My love affair resulted in my photographs being awarded prizes and being shown in small out of the way galleries. One of my Central Park Series got me accepted to a terrific Arts College, but in the end my parents, who saw an artist's life as decadent, prevailed and I was forced to go to a college of their choosing. Ironically enough, the campus was Central Park, so there was some consolation.
At age 16, I did my first magazine cover in their botanical gardens, which assured me a steady income for a few years. It was this income that enabled me to have my own apt. near the park and explore every inch of it's beauty. While living there I was also able to get into running and bird watching. As a result, I learned to treasure nature.
Lately, after my physical therapy sessions, I've gone to the park to watch the winter ducks and geese hang around in the Great Pond, feasting themselves on whatever fish they can find. I help them out by sharing some of lunch with them; they help by reminding me of the simplicity and beauty I can find here.
Central Park has taught me that nature is beautiful, even in the quiet meditative grey days of winter.
That's something a disfunctional art display of orange day-glo fabric and steel posts will never enhance and only detracts from! It's an ill-fated attempt at post modernist expression, which does exactly what the Christos set out to do.... "nothing". They have accomplished one thing, anger park conservationists and most new yorkers who love the park, oh and generate an eyesore for the city.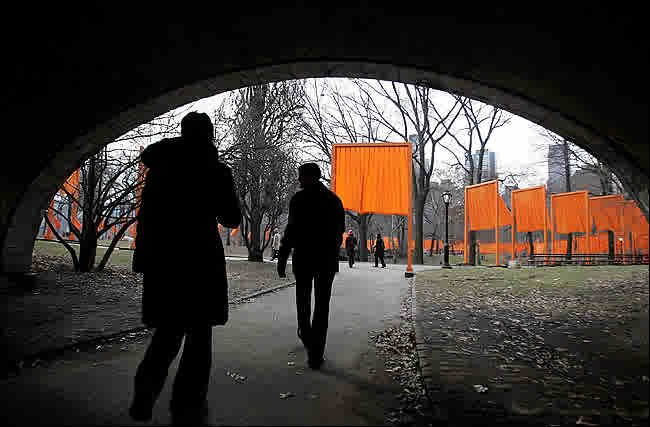 Posted by Michele at February 12, 2005 11:55 AM